Cicmany Village & Bojnice Castle
Journey with us into the Carpathian mountains to experience two opposites, which are both beautiful in their own way. First, visit the uniquely preserved Hansl and Gretel village of Cicmany and afterwards enjoy a tour of the fairytale-like Bojnice Castle of a wealthy aristocrat. Slovakia's fairyland is waiting to be discovered.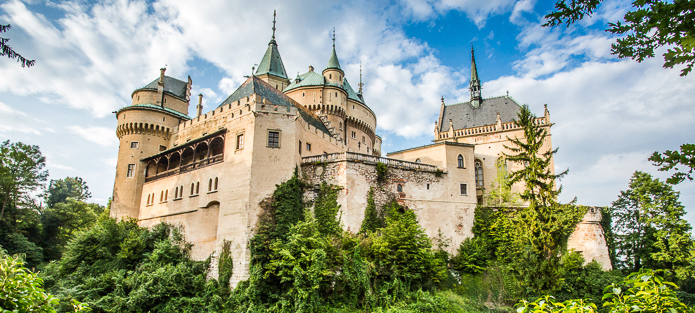 Cicmany
You take a scenic route along the Vah River Valley, which later cuts deep into the densely forested mountains. Along the way, your guide points out several massive castles perched on rocky outcrops above the river that used to guard the trade routes. Isolated high up in the densely forested mountains full of bears and wolves you visit one of the most isolated and best-preserved wooden villages in the country.
Cicmany village is like a fairy tale with 140 Hensl and Gretel cottages. Of particular interest are the unique white patterns which are painted on the exterior wall of the houses featuring animal and plant motifs as well as runes. The village is also noted for the richly decorated folk costumes that the locals wear on various festive occasions.
Before continuing your Cicmany Village and Bojnice Castle Tour, you will enjoy the local tasty food for lunch in one of the village's typical taverns.
Bojnice
Already from afar you will spot the magnificent Bojnice Castle. The contrast between the castle and village couldn't be more stark. During the tour of Bojnice Castle you experience a world full of the opulence of the elderly Count Palffy. Originally built in the 12th century, the old castle had changed several owners and experienced many additions and renovations in the Gothic, Renaissance and Baroque styles. In the late 19th century the count decided to spend a fortune to rebuild Bojnice Castle to impress his French fiancée's parents; however, she wouldn't have the patience to wait for 20 years and he died before the castle's reconstruction was completed.
The richly decorated interior boasts art from across Europe, Asia, and the Middle East. Thanks to its well-preserved state and many legends, Bojnice Castle is rightly considered the most fairytale-like castle in Slovakia.
"I just wanted to thank you again for the excellent tours you gave us. We came away not only impressed with your country but with you. Our time with you was delightful, informative and never to be forgotten. You made our time in Slovakia unforgettable. You are so articulate, knowledgable, easy to be around."
R.P. Connecticut, USA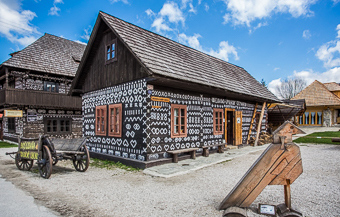 Cicmany Village & Bojnice Castle Tour
Enjoy a private day trip through beautiful countryside to an uniquely preserved wooden Carpathian village which will set you back a hundred years. Afterwards enjoy a tour of Bojnice Castle to see how nobility lived in opulence and experience a truly fairytale castle.
Duration: 8 hours
Why Martin Sloboda and his team?
At Martin Sloboda we feel lucky to be in employ that fits our personality perfectly.
Our passion for Slovakia, sense of humor and personal touch create memories of a lifetime.
Thanks to our professional approach, profound knowledge and attention to detail our guests receive a very personal experience.
We work with carefully selected and highly qualified guides who meet high personality requirements in order to build a powerfully successful team.