About the Team of Martin Sloboda
Martin Sloboda is no longer only about Martin Sloboda. In the last years it has grown to now include an excellent local team of like-minded professionals, dedicated to the same principles which have been present since the beginning: the desire to open the city to visitors through the art, history, food, fashion and architecture, bringing the past as much to life as the present. Our goal is to open a doorway to allow you to experience the history and get to know the characters, rather than simply seeing the sights and remaining on the outside.
The carefully handpicked team of Martin Sloboda all share the same characteristics which are the foundation of Martin's reputation: enthusiasm, in-depth knowledge of art and history, a knack for communication, personal charisma, sense of fun and a love for Bratislava, Slovakia and Central Europe in general.
The goal is to be the best private tour team in Bratislava. We collaborate with only the best guides not only in Bratislava, but in other cities as well. All our guides have a governmental licence necessary to conduct guided tours.
About Martin Sloboda
Born in 1974 in Bratislava, Slovakia, Martin Sloboda is author, publisher, guide, photographer, lecturer, speaker, travel consultant and event coordinator.
Martin Sloboda was born into an old Bratislava family, where speaking German, Hungarian and Slovak was part of every-day life. In 1999 he obtained MA from British and American Studies, and German Studies at the Comenius University in Bratislava, Slovakia. During his studies he took further courses at schools in Germany (Würzburg, Tübingen), England (Cambridge), France (Nice), Italy (Padova) and Australia (Sydney).
In 2007, during European Union's 50th Anniversary in Berlin, Martin Sloboda was selected into the European Union Panorama of " 27 True Europeans" representing Slovakia among 27 member states.
Tourism & Event Management & Genealogy
While student, Martin Sloboda obtained the city of Bratislava's official tour guide license. First, he started working for travel agencies in Bratislava as a tour guide. Before long he had become independent and had made his way from guiding tourist groups to corporate clients and eventually accompanying top-level state visits. Because guiding is one of his passions, whenever he can, he does tours for tourists as well state visitors personally. Otherwise he relies on his carefully selected team of the best guides in Bratislava.
One of the branches of his business is event management and he always enjoys to "smuggle" into corporate events something typical for Bratislava. He is an invited speaker on board luxurious Danube river cruises for distinguished audiences and gives Slovakia presentations for corporate clientele.
One of his most emotionally rewarding activities is Genealogy. He assists Americans and Canadians with Slovak roots in rediscovering their ancestry. The agency provides genealogy research, location of living relatives and brings families back together after more than a century.
Martin Sloboda is the founding member of Bratislava Tourist Board, which is the Slovak capitals' official tourism authority. He helps to shape the development of tourism in Bratislava.
In 2019 he initiated, organized and co-financed in collaboration with Rotary Club Bratislava Danube and Bratislava Region a sizable bronze 3D model that depicting Bratislava. The model shows the city during its heyday in the 18th century. It was unveiled on the Danube embankment near the piers, where hundreds of thousands of passengers annually disembark from cruises.
Writer & Photographer
Martin Sloboda combined his passion for history, touring and photography and started writing and publishing successful guidebooks and coffee table books. Whenever time allows it, he enjoys traveling around Slovakia with his camera shooting photos for his books. His images of Slovakia have been published in renowned international magazines, newspapers and are used by tourism authorities in Slovakia.
Wine Connoisseur
Martin Sloboda has been following courses in oenology and viticulture at the renowned Austrian Wine Academy. Simultaneously, he has been attending courses at wine schools in the centers of Austrian wine-making – in Krems and Eisenstadt. He organizes wine tours to Slovakia discovering its dynamically changing wine scene for wine lovers, wine clubs and wine professionals.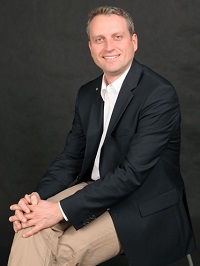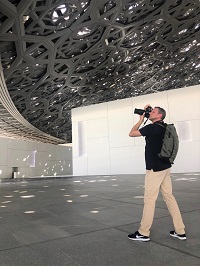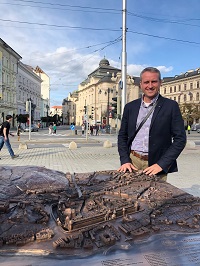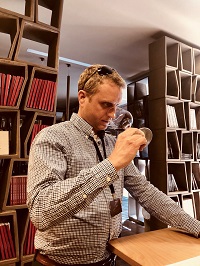 Why Martin Sloboda and his team?
At Martin Sloboda we feel lucky to be in employ that fits our personality perfectly.
Our passion for Slovakia, sense of humor and personal touch create memories of a lifetime.
Thanks to our professional approach, profound knowledge and attention to detail our guests receive a very personal experience.
We work with carefully selected and highly qualified guides who meet high personality requirements in order to build a powerfully successful team.