Bratislava Castle & Old Town Tour
We have put together the Bratislava Castle & Old Town Tour so you get the perspective of this wonderful city from the bird's eye view. Only then you really get to appreciate Bratislava. Be aware, though, that it will be an eye opener and you will start wondering why haven't planned more time. So plan ahead because you need a lot more time for Bratislava than you think.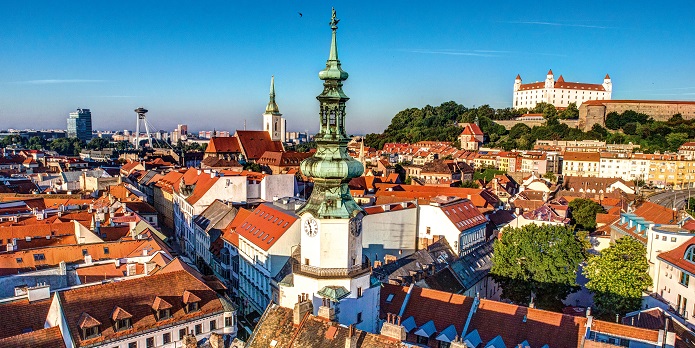 Our Bratislava Tour of Castle and Old Town start with breathtaking views from the Castle and take in all the must-sees of this historic city.
Bratislava Castle
The Bratislava Castle has been continuously inhabited for more than 2000 years. The oldest parts of the present Castle date from the 13th century, when a border castle was built here by Hungarian king only to be succeeded later by larger and ever more sumptuous structures. For over 270 years the Hungarian Royal Crown Jewels were stored and guarded here. The Castle saw its golden age in the 18th century during the reign of Queen Maria Theresa, when it was transformed into her summer residence in Hungary.
Enjoy the breathtaking panoramic views of the city during this tour and learn more about Bratislava in general. Afterwards we will get down to the historical Old Town of Bratislava.
Bratislava Old Town
Starting the Old Town Tour at one of Bratislava's landmarks and its largest church – the St. Martin's Cathedral. During 270 years 19 members of the Habsburg family where crowned to Hungarian kings here.
The following Venturska ulica and surrounding streets are the musicians' quarter where numerous famous music composers studied, lived or gave concerts. Just to name a few: Bartok, Liszt, Haydn, Mozart and Beethoven were the among the most famous ones.
The tour continues through narrow winding alleys to Michalska ulica with the town's only preserved town gate – St Michael's Gate. It is towering at the street's top end and burgher houses with romantic courtyards.
Our guide takes you also to the charming Main Square dominated by the medieval Old Town Hall and Maximilian Fountain.
From the Main Square you pass the Old Town Hall to another quaint square to visit Bratislava's largest palace – Primate's Palace, formerly winter residence of Hungarian archbishops. The priceless complete set of 17th century royal English tapestries here on show was found in the palace during renovation by chance.
We end the tour by the elegant Opera House, and the Slovak Philharmonic Hall, next to which the historical hotel Carlton is located.
or if you have special requests, click here:
"We really knew nothing about Bratislava or Slovakia, and had originally simply decided it was a good halfway point for a night's rest between Budapest and Prague. What an eye opener your tour was! We were especially impressed with your analysis and description of the changes in your country. As a big fan of classical music, I particularly enjoyed seeing all the sites where famous composers visited. After we said good-bye to you, we went for coffee and cake to Café Meyer. I had the marzipan cake (your wedding cake) and it was sublime!"
J.S., California, USA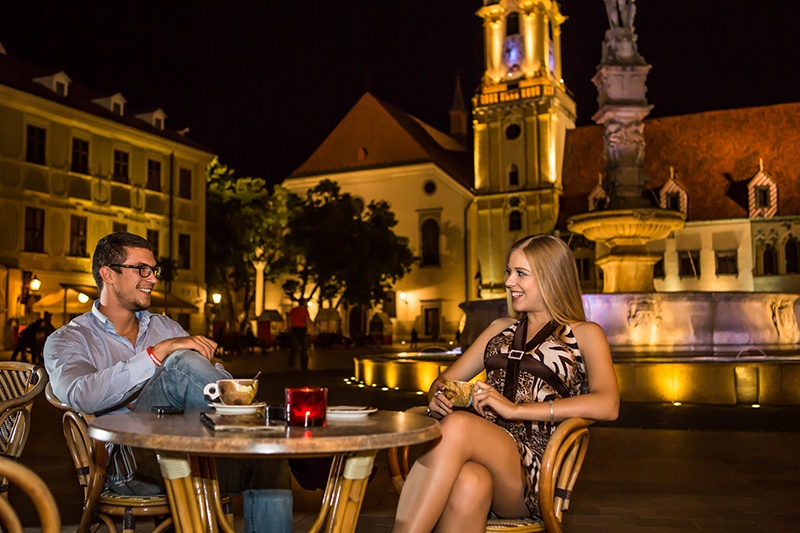 Bratislava Castle & Old Town Tour
Enjoy one of the most popular tours in Bratislava at a leisurely pace through the cobbled streets of historic Bratislava and walk up to the Castle for panoramic views.
Duration: 2.5-3 hours
Why Martin Sloboda and his team?
At Martin Sloboda we feel lucky to be in employ that fits our personality perfectly.
Our passion for Slovakia, sense of humor and personal touch create memories of a lifetime.
Thanks to our professional approach, profound knowledge and attention to detail our guests receive a very personal experience.
We work with carefully selected and highly qualified guides who meet high personality requirements in order to build a powerfully successful team.