Bratislava Old Town Tour
If you are visiting Bratislava for the first time, you know you will have little time and want to merely get the first impression then our Bratislava Old Town Tour is just the right thing for you. But be aware that the city is not to be underestimated. It will get under your skin and there is a lot more to Bratislava than just the Old Town. There are plenty of travelers who prefer Bratislava to the other capitals around so plan ahead and get inspiration from our tours.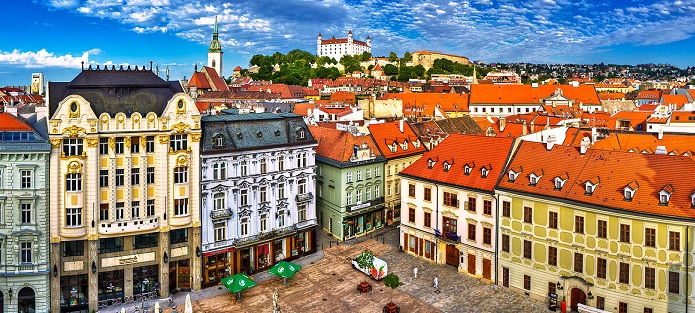 Our Walking Tour of the Old Town of Bratislava takes in all the must-sees of this historic city. Your guided tour starts at the elegant Opera House surrounded by the equally impressive building of the Slovak Philharmonic Hall and the famous Carlton Hotel. Our guide takes you to the charming Main Square dominated by the medieval Old Town Hall and Maximilian Fountain.
From the Main Square our guide takes you pass the Old Town Hall to another quaint square with Bratislava largest palace – Primate's Palace, formerly winter residence of Hungarian archbishops.
The Tour continues through narrow winding alleys to Michalska street with the town's only preserved town gate – St Michael's Gate – towering at the street's top end and burgher houses with romantic courtyards. The following Venturska ulica and surrounding streets are the musicians' quarter where numerous famous music composers studied, lived or gave concerts, among whom Bartok, Liszt, Haydn, Mozart and Beethoven were the most famous.
Afterwards, our guide will show you one of Bratislava's landmarks and its largest church – the St. Martin's Cathedral, formerly coronation church of Hungarian kings. The tour finishes back at the Opera House.
or if you have special requests, click here:
"Dear Martin, how can we tell you how much this day meant to us? Wow! What a meeting of the minds! It has been a highlight of the 12 trips that we have made together. We feel like we took a first rate course at Slovak University given by a distinguished professor. It was a great pleasure from start to finish."
C.S., Oregon, USA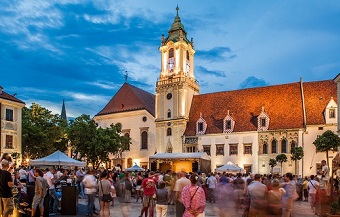 Bratislava Old Town Tour
Enjoy an expert walking tour at a leisurely pace through the cobbled streets of historic Bratislava.
Duration: 1,5 – 2 hours
Why Martin Sloboda and his team?
At Martin Sloboda we feel lucky to be in employ that fits our personality perfectly.
Our passion for Slovakia, sense of humor and personal touch create memories of a lifetime.
Thanks to our professional approach, profound knowledge and attention to detail our guests receive a very personal experience.
We work with carefully selected and highly qualified guides who meet high personality requirements in order to build a powerfully successful team.