Bratislava Whitewater Rafting
Whitewater rafting in Bratislava is an excellent way to encourage camaraderie and strengthen workplace relationships. The activity promotes trust, teamwork and open communication. It also allows corporate team building to release the stress, and unwind while having fun.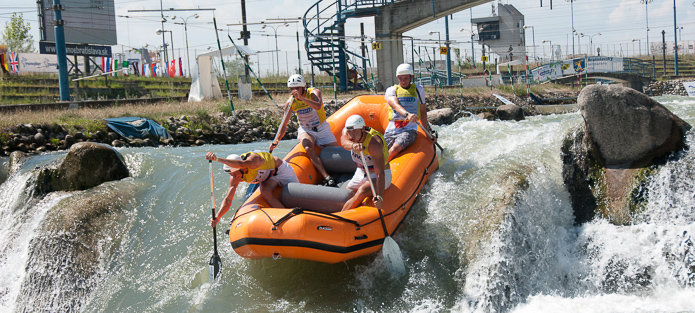 Team building exercises don't have to be in a meeting room of the workplace to be effective. Most employees enjoy team building a lot more when it takes place in a new environment and involves participating in sports and fitness activities together.
Teaching up to eight people how to paddle and work together to get a raft through the rapids requires a lot of teamwork. The state-of-the-art Whitewater Center on the Danube in Bratislava was designed to host World Championships and consists of two parallel intersecting courses offering countless opportunities for rafting.
Prior to rafting your group receives training and health and safety instructions. Each participant gets the complete gear with a wetsuit, helmet, etc. The group is divided up into teams into rafts each with a professional guide. They can run for fun or it can be turned into a competition for the best time.
Participants learn to react to the environment and flow of the water while having the ability to foresee upcoming obstacles and quickly respond. They experience immediate consequences and require creativity and critical thinking to respond with. After the trip, team members will be more supportive of each other, communicate better, and become a more cohesive group. These are just some of the benefits that your company can get after taking a whitewater rafting trip in Bratislava with Martin Sloboda and his team.
The Bratislava Whitewater Center offers apart from rafting also possibilities for hospitality catering as well as other sports activities like wave surfing, hydrospeed/riverboarding, wakeboarding, jet ski, paintball and others.
"We were so lucky to find Martin and MS Agency Day Tours to organize our full day team building event. We were met punctually at the hotel by a local guide who was entertaining, personable and very knowledgeable. All activities (from rafting to tree climbing) and both the lunch and dinner suited our needs and hopes perfectly. THANK YOU GUYS ! We will be back!"
E. M., Vienna, Austria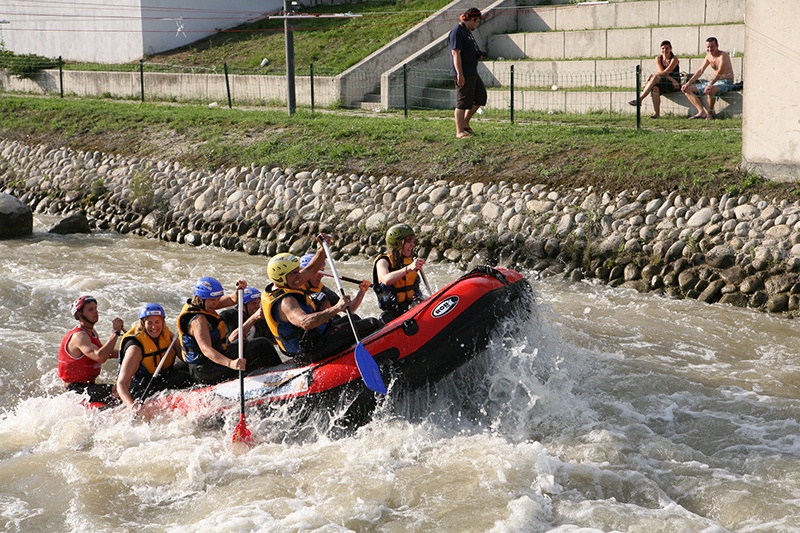 Bratislava Whitewater Rafting
Whitewater rafting in Bratislava is an excellent team building activity promoting trust, teamwork and open communication.
Duration: 3 hours
Why Martin Sloboda and his team?
At Martin Sloboda we feel lucky to be in employ that fits our personality perfectly.
Our passion for Slovakia, sense of humor and personal touch create memories of a lifetime.
Thanks to our professional approach, profound knowledge and attention to detail our guests receive a very personal experience.
We work with carefully selected and highly qualified guides who meet high personality requirements in order to build a powerfully successful team.