Bratislava Wineries & Wine Tours
The Small Carpathians just outside Bratislava is the best known wine region in Slovakia. Award-winning wines, scenic landscape, local cuisine and state-of-the-art wineries make this a must-visit destination for all wine-loving visitors of Bratislava. Join us for a day filled with joy and great Slovak wine.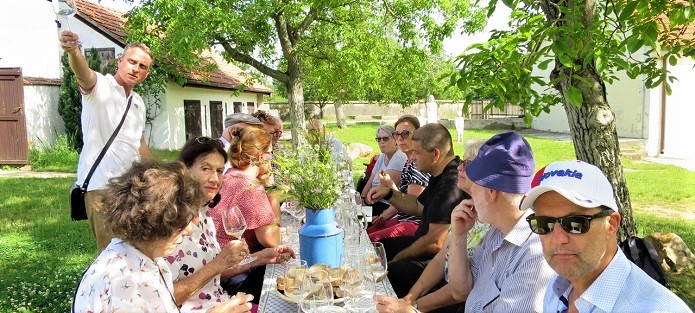 The south slopes of the Small Carpathian mountains offer perfect conditions for vines, which was recognized already 2.000 years ago by the Celts and Romans. Ever since the 13th century wine-making and wine trade have been an important part of the local economy.
After major investments and a new generation of vintners taking over, the focus has shifted to producing fresh and fruity wines, which you will taste on our wine tours outside Bratislava. Ever since the local wineries have been enjoying international success bringing home many champions and gold medals for their wines from prestigious wine shows in Paris, Madrid, Vienna, Finger Lakes, etc.
Typical local white wine varieties of the Small Carpathians are Grüner Veltliner, Welschriesling and Riesling known from Austria and Germany. There are, however, also some fantastic rosé wines usually made from Cabernet Sauvignon grapes as well as delicious sweet wines, even ice wines often made from local varieties such as Devin. Increasingly, fruity red wines from the wine region near Bratislava have been gaining attention often made from new exciting varieties. Bratislava and surroundings have also a long tradition of producing sparkling wines as this was the first place outside France to master their production as early as 1825.
On our wine tours we try to build in all the various types of wine typical for the region as well tasting traditional food from the region around Bratislava. The tours combine three top Slovak wineries, tastings of award-winning wine complimented with typical lunch.
Here you find more interesting facts about wine culture in Slovakia:
"Just a short message to thank you for the excellent service offered to us on both occasions. All tours were really very detailed, and the restaurants recommended were really great, in particular the Paparazzi. Forward my greetings also to Jana, for her great service."
T.M., Malta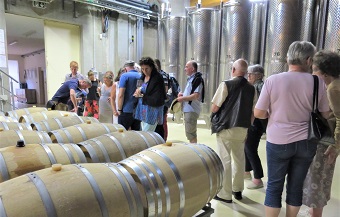 Bratislava Wineries & Wine Tours
Enjoy on one of our lovely tours the scenic countryside at the doorstep of Bratislava, great wineries and delicious wine that you never new existed.
Duration: 7-8 hours
Why Martin Sloboda and his team?
At Martin Sloboda we feel lucky to be in employ that fits our personality perfectly.
Our passion for Slovakia, sense of humor and personal touch create memories of a lifetime.
Thanks to our professional approach, profound knowledge and attention to detail our guests receive a very personal experience.
We work with carefully selected and highly qualified guides who meet high personality requirements in order to build a powerfully successful team.