Trencin Castle & Piestany Spa
Join us on a day trip through the Vah river valley lined with castles and admire the largest of them during a tour in Trencin. Prominently siting on a high rock above its lovely historic town, Trencin Castle is visible from afar. Afterwards, enjoy a walk through Slovakia's best known spa town, a popular well-being spot since the Roman times and visited by composers, royals and Hollywood stars.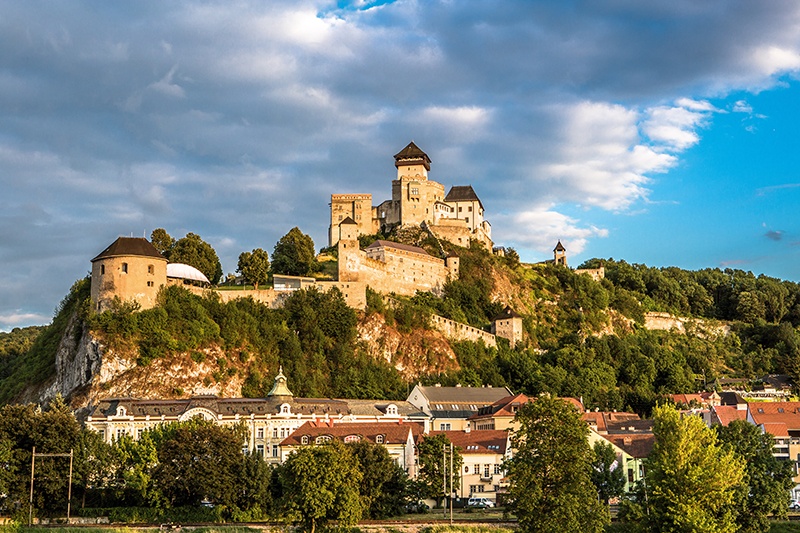 Trencin
This tour will take you along the Vah River valley to visit Trencin – one of the largest castles in Slovakia. It protected the trading route along the River Vah and the nearby mountainous border between the former Kingdom of Hungary and the Kingdom of Bohemia.
Trencin's history dates back to Roman times, when Emperor Marcus Aurelius' legions won over Germanic tribes in 179 and established the military camp Laugaritio. This history is commemorated in the inscription on the castle rock, marking the most northerly document of Roman presence in Slovakia. The castle dates from 11-18th centuries and dominates the entire region. The tower offers a stunning panoramic view of the surroundings and the old town below.
Piestany
After Trencin, visit Piestany, the best known spa town in Slovakia. The thermal springs near the River Vah bubble up from a depth of 2000m at a temperature of 67 – 69 °C, and its healing mud is among the most acclaimed in the world. One of the first famous people to come here for treatment was Ludwig van Beethoven.
The spa enjoyed a huge boom from the end of the 19th century, when it was leased by entrepreneur Alexander Winter, who developed it into the world-renowned spa. The spa has welcomed royalty, European aristocracy, famous Hollywood stars, Indian Maharaja and Arabian sheiks, and still attracts people from all over the world. After a tour of the pretty town and spa island, treat yourself to a bath in the healing springs like ancient Romans and relax after a busy day.
"We had a lovely day traveling the surroundings of Bratislava, and enjoying the spring waters. The guide was very nice, patient and open to all our questions. Thank you very much."
M.K., Mexico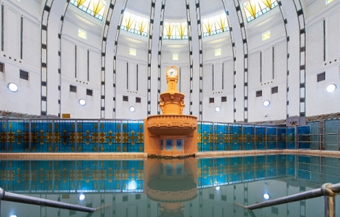 Trencin Castle & Piestany Spa Town Tour
Enjoy a private day trip through beautiful countryside to visit Trenčín Castle and town. Afterwards visit Piešťany spa town and take the waters in Thermia Palace, a jewel of Art Nouveau architecture.
Duration: 8 hours
Why Martin Sloboda and his team?
At Martin Sloboda we feel lucky to be in employ that fits our personality perfectly.
Our passion for Slovakia, sense of humor and personal touch create memories of a lifetime.
Thanks to our professional approach, profound knowledge and attention to detail our guests receive a very personal experience.
We work with carefully selected and highly qualified guides who meet high personality requirements in order to build a powerfully successful team.