Wine Tasting in the Dark
Welcome to complete darkness! Our sommelier will lead you through an evening full of unexpected sensations and potentially change your perception of what wine is being served.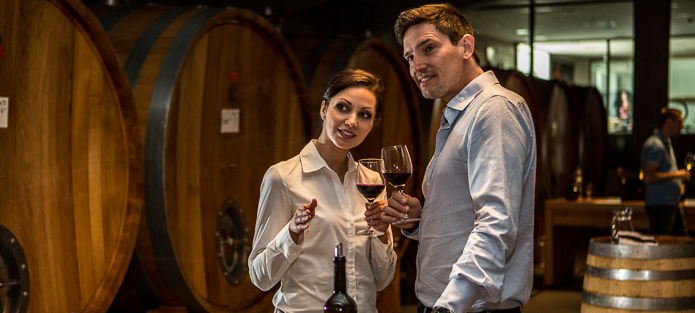 Many know about a blind wine tasting – a wine tasting where the label is covered. The idea is matching how good of wine connoisseur you are to be able to discern the wine. But this is all about elevating your senses by taking away one.
Why don't you prepare a real surprise for your colleagues as a team building activity. Wine Tasting In The Dark in one of the oldest wine cellars in Bratislava in a pitch black environment will force guests to rely on exclusively on their nose and mouth. Wine buffs may think it's easy to spot a Sauvignon Blanc from a Pinot Grigio, but what happens when they are asked to taste wines deprived of one of their most trusted senses; sight?
In the beginning of Wine Tasting In The Dark you will be given different items to smell, a bit of a warm up for our sense of smell. You may not be able to identify all items. But one thing is for sure, it really helps hone in on our sense of smell.
Next, a range of five different Slovak wines will placed in front of you. The subtle nuances of wine are no longer so subtle, instead having our your attention. Will you be able to identify the the different types of wine? One thing is certain – after Wine Tasting In The Dark you will never look at wine the same again.
Here you find more interesting facts about wine culture in Slovakia:
"Joan and I are still talking to each other about the wonderful day we spent with you in Bratislava. You made us feel almost a part of your family as you not only showed us the beauty of the city, but the history of it in the context of your personal experience. By far the best touring experience we've had in our extensive world travels. Thank you sincerely."
D.B., California, USA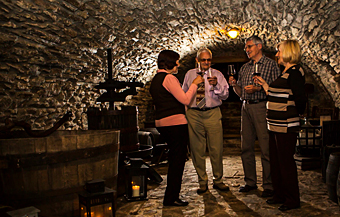 Bratislava Wine Tasting in the Dark
Prepare a real surprise for your colleagues as a team building activity in Bratislava: Wine Tasting In The Dark. It will force everybody to power up their senses.
Duration: 2 hours
Why Martin Sloboda and his team?
At Martin Sloboda we feel lucky to be in employ that fits our personality perfectly.
Our passion for Slovakia, sense of humor and personal touch create memories of a lifetime.
Thanks to our professional approach, profound knowledge and attention to detail our guests receive a very personal experience.
We work with carefully selected and highly qualified guides who meet high personality requirements in order to build a powerfully successful team.