Bratislava Wine Tour
Discover beautiful hidden corners and romantic courtyards of Bratislava during our Wine Tour that are connected to wine production. At the end of the tour you will taste some of the best wines from Slovakia in a typical historic wine cellar.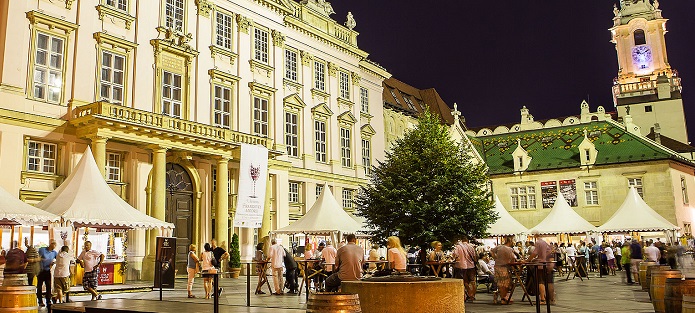 On this wine tour your will learn a lot about the peculiarity of the history of Bratislava with the emphasis on wine and its production and storage. You will explore numerous historic courtyards and cellars and finish the tour with a wine tasting of some of the best Slovakian wines in a medieval cellar.
For many centuries, the main trade in Bratislava was wine. The Old Town and Castle were in those days surrounded by vineyards. Many vintners and wine merchants lived in houses where wine was made and stored. Thanks to them we have not only a rich tradition in wine making but also numerous secluded courtyards and cellars from the past.
In recent years Slovak wines have been enjoying a lot of attention at wine shows such as Paris, Vienna, London, Madrid. A younger generation has moved into the wine industry. This generation has been able to implement modern winemaking knowledge and technology, making for a blossoming wine scene.
In Bratislava, you'll find a wide variety of grapes: everything from well-known Central European grapes to local varieties you can't find elsewhere. The local winemakers create truly surprising and extraordinary wines, often unusual, even compelling. You're almost certainly not going to find any of these wines unless you go to Slovakia.
or if you have special requests, click here:
Here you find more interesting facts about wine culture in Slovakia:
"Thank you so much for making Slovakia the highlight of our entire trip. Because we only have 2 thumbs each, we are giving you a 4 thumb score for your professionalism, kindness, thoughtfulness as to how you treated us and conducted yourself on our visit. What we experienced in the villages was very special. The Zlaty Bazant and Pilsner Urquiel beers on draft were the best. Even better than the German beers. We liked the Slovak Varieto Rizling Rynsky as the best wine of the trip. Is there any way to order wines from the wine shop/restaurant that you had stop at for the wines? We ate at all 3 of your restaurant recommendations, and would like to go back there this weekend. Unfortunately we are thousands of miles away. We will have the memories for a lifetime."
M.N., New York, USA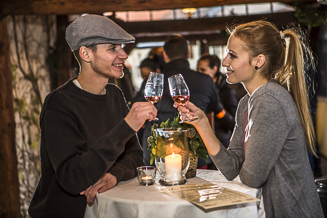 Bratislava Wine Tour
Enjoy an expert tour at a leisurely pace through the cobbled streets of historic Bratislava with an emphasis on history of wine-making and quaint courtyards. At the end taste some of the best Slovakian wines in historic ambiance.
Duration: 2 – 2,5 hours
Why Martin Sloboda and his team?
At Martin Sloboda we feel lucky to be in employ that fits our personality perfectly.
Our passion for Slovakia, sense of humor and personal touch create memories of a lifetime.
Thanks to our professional approach, profound knowledge and attention to detail our guests receive a very personal experience.
We work with carefully selected and highly qualified guides who meet high personality requirements in order to build a powerfully successful team.